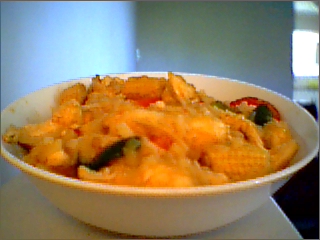 Ingredients
600 grams Chicken breast fillets, skin-free, trimmed of fat
125 grams Pad-Thai Rice Noodles
2 tablespoons Cornflour
2 tablespoons Peanut Oil
6 Shallots/Spring Onions, cut into chunks
1 Red Capsicum, sliced
150 grams Baby Corn
¾ cup Cashew Nuts
Sauce mix
2 tablespoons Oyster Sauce
2 tablespoons Sweet Chilli Sauce
1 tablespoon Ketjap Manis
1 tablespoon Brown Sugar
Method
Cut chicken into stir-fry strips
Place noodles into heat-resistant bowl, and cover with boiliing water. Leave stand for five minutes, while preparing sauce mix. Drain and rinse noodles under cold water.
Line chicken strips with cornflour while pre-heating wok to high heat.
Coat wok with small portion of oil and fry chicken strips in batches, keeping them aside while preparing each successive batch.
Recoat wok with remaining oil, and fry vegetables.
Add chicken, sauce and noodles, and cook for a minute or two or until heated through.
Mix in Cashews and serve.
When preparing the dish today, I had it finished while recording was still in progress. So I put the mix on a low-as-possible backburner to keep it warm, and took this photo in the meantime. To prevent it drying-out, I drizzled a small amount of Soy Sauce with Garlic over the mix.
Community content is available under
CC-BY-SA
unless otherwise noted.