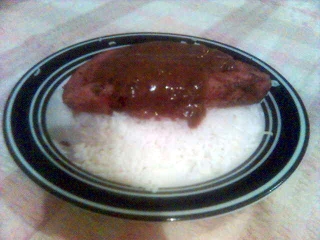 Adapted from a family recipe.
Ingredients
1kg Pork Sausages
1 Onion, finely chopped
1 tbsp Butter
1 tbsp Plain Flour
600ml Chicken Stock
2 tbsp Tomato Sauce
Salt
Steamed rice
Notice I didn't mention curry powder - more on that when I come to use it. ;)
Method
Peeling the sausages isn't necessary, but I'm told it does help (I didn't peel them). Slowly boil the sausages in water, then drain.
Melt butter in a frying pan. Add onion and fry until soft.
Stir in flour and curry powder...
Oops -- no curry powder in the pantry. I should have anticipated this, these are supposed to be curried sausages after all. I recalled an Indian mixed-spice "rub" (it's rubbed into meat that's about to go on the barbeque) that was part of a batch I included with a set of barbeque tools I gave my sister's husband last Christmas. This mixture was made from:
2 tbsp ground Cumin
1 tbsp Coriander
1 tbsp Turmeric
2 tsp ground Cardamom
1/2 tsp Garam Masala
3 tbsp Sea Salt flakes
2 tbsp brown Sugar
1 tsp ground Cinnamon
I quickly combined all these together and used this instead of the curry powder. In retrospect, and acknowledging feedback that the sauce turned out too salty, the three tablespoons were too many to put in. When I prepared this mix the first time, I broke-up the salt flakes by grinding them using a pestle and mortar, but the mixture was needed urgently this time.
Back to the curried sausages:
Stir in flour and spice mix and cook, stirring, for 2 minutes.
Remove from heat, and add stock and sauce. Return to heat and cook, stirring, until mixture boils and thickens.
Simmer for 15 minutes (if I were using curry powder, I' be adding salt to taste at this point as well. As it turned out, it had more than enough salt in already).
Put in the sausages and simmer for another 15 minutes.
Serve atop a bed of steamed rice.
Enjoy. :)