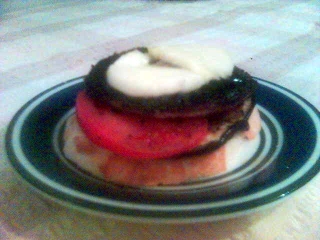 Ingredients
1 Eggplant
Olive oil cooking spray
8 flat Mushrooms, stalks trimmed
2 large ripe Tomatoes, sliced
8 Bocconcini cheeses, sliced
1/3 cup small Basil leaves
1 tbsp Extra-Virgin Olive Oil
8 slices Crusty Bread
Method
Cut eggplant into slices. Spray eggplant and mushrooms with oil
As with the first dish, preheat a barbeque plate (I used a griller) on full-power, then turn down to medium. Cook eggplant for 3 minutes per side and mushrooms for 2 minutes per side, or until both are tender and golden.
Serve atop bread slices, stacked in the order of eggplant, mushroom, tomato, bocconcini. Drizzle a small amount of extra-virgin oil on top, and season with salt and pepper.
Enjoy. ;)