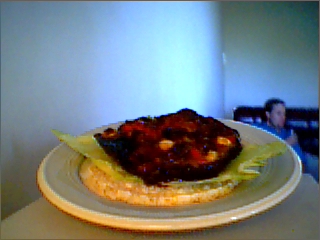 This dish is from a Jamie Oliver recipe, which I saw on an edition of Oliver's Twist, and was able to retrieve from the Food Network Canada website.  I was motivated to try it because I wanted to start adding vegetarian dishes to the repertoire, to be able to cater for all our recording session guests.
Original Ingredients
8 ounces (225 grams) Butter, softened
4 Sun-Dried Tomatoes, chopped
1 Red Chilli , finely chopped
Garlic, finely chopped
leaves of 3 fresh Thyme sprigs
Salt
Freshly ground Black Pepper
4 large white Mushrooms
½ loaf Sourdough Bread
2 tablespoons Dijon Mustard
1 bunch Watercress, picked and washed
Not only was I unable to get sourdough bread or watercress when I went shopping last night, while preparing the dishes today silly me forgot about the salt, pepper, thyme and Dijon mustard -- ah well, them's the breaks. ;)
I substituted the sourdough bread with rice cakes, and the watercress with cabbage.
Method
Preheat the oven to 200° Centigrade. Arrange mushrooms underside up on a lined baking tray.
Mix tomato, chilli, garlic and thyme into butter.
Season (i.e. add salt and pepper to taste) the mix, and spread over mushrooms.
Bake for 10-15 minutes, or until soft (the butter will melt and the flavours of the mix should infuse into the mushrooms, mixing with the spores).
Cut sourdough bread into slices, and spread "bottom" slices with dijon mustard.
Line bread with watercress leaves, and top with baked mushrooms.
Cover with "top" slices of bread, and press down firmly to seat the bread (melted butter and seasoning/spore mix may leak out, this is normal, and this is also where the "steak sandwich" part comes in -- if it's done properly, it should look just like the juice off a well-done steak).
Enjoy. ;)
Community content is available under
CC-BY-SA
unless otherwise noted.