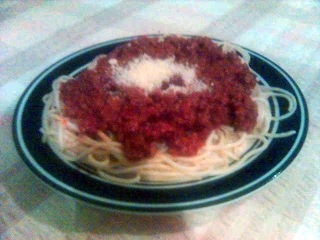 Ingredients
1kg Beef mince
750ml Napolitana sauce mixture
500g Spaghetti
Worcestershire sauce
Soy sauce with garlic
Yes, I use a sauce mixture for this dish. I don't see any reason to deny it or claim otherwise, and the additions I make to this dish mean it's not a straight copy of whatever's printed on the label.
Method
Begin by putting the spaghetti in a large pot of salted water, to bring to a boil.
Meanwhile, break-up the mince and fry in a pan until brown.
Add Napolitana and mix-in.
Add a liberal dash of Worcestershire (half a cup at most) and mix-in. Add a smaller dash of Soy and Garlic and mix-in (too much Soy will make the mix too hot).
Simmer if necessary while spaghetti comes to boil. Drain and rinse spaghetti before serving.
Enjoy. :)